Alicia Kolk
Pechanga Garde Manger Chef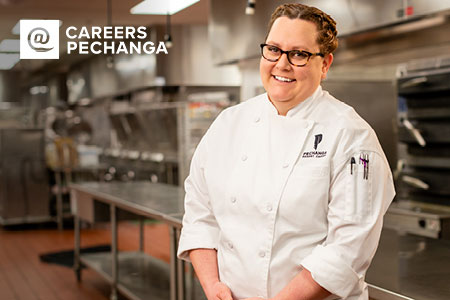 As Pechanga's Garde Manger chef, Alicia Kolk feels right at home. She began cooking in the kitchen at the age of 11 with her father, and she's never left. He showed her how to make holiday specialties, and basic things that she would end up making for her younger sister for dinner. Alicia's single dad who worked nights as a bowling alley pinsetter technician raised her sister and her. Alicia found experimenting with food she could make for dinner fascinating and only wanted to work at it more.
She maintained a successful student- athlete career through grade school and high school. But Alicia already placed her preteen ambitions in the culinary field. The sauerkraut and hollandaise sauce she practiced with her dad set her heart and mind in motion to follow that culinary dream.
She landed her first restaurant job at 16 – making pizza at Little Caesars. She applied for and was accepted to the Institute of Culinary Education in Pasadena, Calif. immediately after graduating high school. "I never burned anything at first because I felt like I knew more than some of the other students in that first class," recalled Alicia. "Then you start making things you're very unfamiliar with and you're humbled by the art of it. I love the way it smells when you start cooking. The herbs, spices, garlic and other ingredients starting to come together. That's what made me fall in love with it when I started cooking with my dad. And there's no way I could ever fall out of love with it."
After culinary school, Alicia worked in the banquet kitchen for a Southern California wedding venue that produced at least one wedding every day of the year. She left there to become a mom, though made her way back to the culinary scene and this time, as a lead banquet cook at Temecula Creek Inn where she stayed for five years. She then made the short jump down the street to work for Pechanga Resort Casino's banquet team. It did not take long for the resort/casino's executive chef to notice her dedication, extreme attention to detail, easy management style and willingness to assist on any project, big or small. She was quickly promoted to Assistant Garde Manger Chef at Pechanga and just a few months later, promoted to head Garde Manger chef.
Garde Manger comprises the cold kitchen in a resort/casino. Dressings, sauces, salsas, lemon and lime slices, salads of all kinds, guacamole, tuna and chicken salad, even fancy fruit and vegetable displays, they all come from Garde Manger. All 13 restaurants, and the extensive banquets facility, utilizes food items prepared fresh each day at the Garde Manger kitchen.
Alicia is married and has two sons. She says she still cooks for the family every day.
FIND A CAREER ON ANOTHER LEVEL
Discover opportunity, security, and success, with the largest private employer in the Temecula Valley.
APPLY NOW
Glassdoor

What Team Members Are Saying

LinkedIn

See How You Are Connected

Connect with Us

Like and Follow Us on Facebook