Emmanuel Inocencio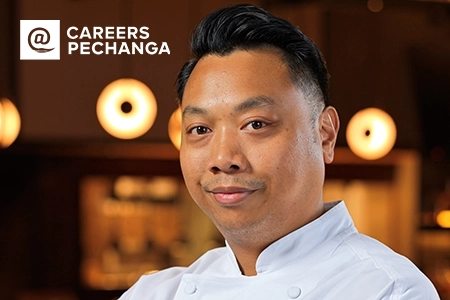 If Emmanuel Inocencio looks familiar, just like the fresh ingredients in Pechanga's kitchens, he's been a staple here since 2013. Born in Los Angeles, Inocencio's parents moved the family, and their grandmother, to Victorville when he was 12, leaving behind a bad neighborhood. It would be his Filipino grandmother who would give him his first introduction to the kitchen. "She taught me how to cook authentic rice and lots of other dishes when I was young," he recalled.
A natural at skateboarding, but he freely admits he was not a great student in school. A high school cooking class he thought was going to be a cinch ignited a spark. Halfway through the semester, a representative from Le Cordon Bleu Culinary School in Pasadena paid a visit to Emmanuel's class. "It really seemed like he was speaking to me, though I know he was there to solicit as many kids as possible. He said you don't need to be a straight A student, that culinary school brings out many more skills in young people than traditional school often does. I was sold."
Inocencio graduated from the culinary school with a degree in baking and pastries. Applying for pastry jobs in and around the Pasadena and Los Angeles areas, no one would pay him, he recalled. "A lot of them wanted three years of apprentice work before they would consider you." He moved back to Victorville to regroup. With few bakery options in the high desert, he worked a short stint at the Costco bakery before applying for line cook jobs "down the hill." His first at bat became working on the cook line for the fan suites at Angel Stadium. Exposure to preparing food for a large organization proved the experience he would need to land his next several roles, and he was hungry for them. Inocencio did all he could to keep learning, growing. This included sleeping in his car on days the baseball team played back to back nighttime and daytime games.
A move to San Bernardino prompted Inocencio to apply at a major resort/casino in the area. After several years there, he applied to work at the historic Mission Inn and landed a job at Duane's Steakhouse. With still more experience under his belt, he made the move to a notable Temecula winery restaurant. One evening, he and his friends played blackjack at Pechanga Resort Casino. Betting rather large amounts, he said to himself half-jokingly, "if I lose this hand, I'm going to have to apply here." He lost the hand and followed through.
Since 2013, Inocencio has been one of the champions of Pechanga's culinary success. He's helped the Great Oak Steakhouse, Garde Manger, Paisano's and now Kelsey's rise to another level of culinary excellence. As the head chef of Kelsey's, he continues to strive to find exactly the right mix of food and ingredients for the regulars and visitors who pack the place each evening. "No matter what kitchen I'm in, I always want to make it the best it can be. When everyone's moving in unison and on the same page in the kitchen, that's the best feeling."
FIND A CAREER ON ANOTHER LEVEL
Discover opportunity, security, and success, with the largest private employer in the Temecula Valley.
APPLY NOW
Connect with Us

Like and Follow Us on Facebook

Glassdoor

What Team Members Are Saying

LinkedIn

See How You Are Connected