Jordan Garcia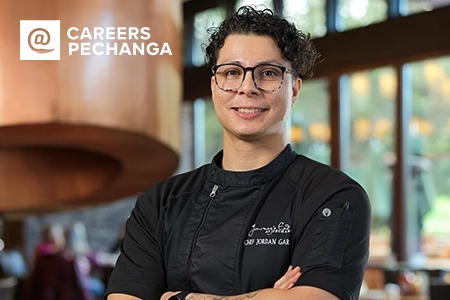 Inspiration comes from everywhere. For Chef Jordan Garcia, it came directly from his grandmothers and from his mom. Born in San Diego, Garcia spent a lot of time as a boy with his grandparents. His parents worked full time. But his abuelas weren't shy about having help in the kitchen. "They taught me how to make tortillas. One of my grandmas would always have my sister and me do a taste test to make sure the dough was seasoned and made properly. She cooked the tortillas off on a hot comal, then spread butter all over one side, roll them up and we would eat them like that. This is one of my favorite cooking memories. And probably no surprise warmed up tortillas with butter remains one of my favorite snacks."
Their family moved to Murrieta when Garcia was in junior high school. Involved in basketball and volleyball, time for cooking, or helping his family cook, ran thin. However, his mom spent time whipping up dinners from scratch every night. Garcia started to notice the amount of work she put into the meals when he hit high school. "She would make the best chilaquiles for breakfast. She'd make pasta and chicken casserole, all of these great meals. She really enjoyed cooking as a hobby."
That's when Garcia started to pick up the spatula again, assisting his mom. She taught him the techniques she knew form a wide range of culinary regions. That assistance parlayed into a few jobs following high school at fast food restaurants. Garcia thought he wanted to pursue becoming an EMT and firefighter. While he worked toward his EMT license, he simultaneously held down cook jobs in two chain restaurants. He earned the EMT license, but it was his mom who realized Garcia was always watching Food Network and trying to help her cook in the family's kitchen. "She encouraged me to check out cooking school."
No son wants to disappoint his mother, though Garcia's knew her son and where his passions lay well before he did. He attended the Art Institute of San Bernardino's Culinary Department. After a few more stints at chain restaurants in the region, he seamlessly migrated to the Temecula Creek Inn, where he spent three years working his way up to lead cook, honing his presentation and plating skills, before moving to Pechanga Resort Casino in 2014.
At Pechanga, he furthered his precocious skills under many of the resort casino's culinary mainstays. He has worked side by side with the chefs inside Kelsey's, Umi Sushi & Oyster Bar, and several others. Moving from the head chef spot at Paisano's to the head chef of Journey's End and Coveside Grill is what he calls "the most logical step in his career path." But while logic may have made the job easy to say yes to, it's the challenge of now running two restaurant kitchens, elevating the ingredients and upping the artistry that has Garcia proud to come to Pechanga each day.
FIND A CAREER ON ANOTHER LEVEL
Discover opportunity, security, and success, with the largest private employer in the Temecula Valley.
APPLY NOW
Glassdoor

What Team Members Are Saying

LinkedIn

See How You Are Connected

Connect with Us

Like and Follow Us on Facebook