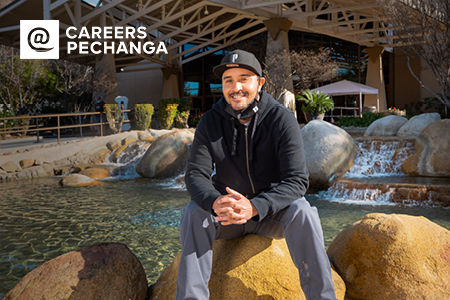 Dealer, host, security officer, retail specialist, chef, and I.T. support are likely jobs that most people think of when talking about employment at one of the largest resort and casino properties in the United States. However, with an operation as diversified as ours, there is a lot of opportunity for specialized jobs that many overlook.
How about water? You may have noticed the eight pools and five major water features around the resort-casino. It takes eight people to keep up with our water systems when the resort is operating at full capacity. Jose Rosiles gives us a look behind what it takes to keep the water systems safe, beautiful and problem-free.
Jose Rosiles has been an aquatic technician with Pechanga since 2019. He is kind and soft spoken with a keen eye and great passion for water. Before Pechanga, he worked as a tech for a pool company in Menifee, Calif. He liked his previous job. Though when a position opened up at Pechanga, he jumped at the opportunity. "When I worked for the pool company, we were always weighing, 'How can we make more money from this job? How can we patch a problem for the least cost?'" Jose recalls. "Now, being at Pechanga, we are all on the same team trying to make the experience as seamless and quality as we can. We just need to make the water systems right." He added that the water features, specifically the lobby entrance rain chandeliers, have always blown him away. He feels thrilled to learn and work with the ins and outs of the pumps, pressure systems, plumbing, electrical, and chemistry. "We are combining multiple trades into one work experience and that variety keeps me excited about my job. It helps having a team that comes from so many different backgrounds and work experiences because we build off each other's knowledge and come up with unique solutions to whatever is thrown at us."
On any given day you can find Jose testing the water chemistry, troubleshooting equipment, skimming, brushing, scrubbing tiles, and tracking the pH levels and flow rate of the water features in the log book. Jose takes great pride in his work and you can hear it in his voice. "Our water features are the first line of view when arriving at Pechanga and we strive to provide a four diamond experience upon arrival and departure."
With his ambition and curiosity for everything water, Jose brings a passion to his job that brings joy and excitement to our guests, day in and out.
FIND A CAREER ON ANOTHER LEVEL
Discover opportunity, security, and success, with the largest private employer in the Temecula Valley.
APPLY NOW
LinkedIn

See How You Are Connected

Glassdoor

What Team Members Are Saying

Connect with Us

Like and Follow Us on Facebook