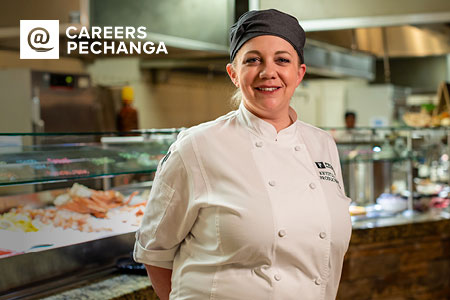 The Pechanga Buffet seats 460 people and in one day, restaurant staff can see nearly 1,400 people come through the doors. They're all there to enjoy the international array of foods Chef Krystle Schenk and her team prepares around the clock for the popular restaurant.
Chef Krystle Schenk describes herself as always being introverted as a child, though she felt completely comfortable in the kitchen. She fondly remembers spending time with her mom and sisters making holiday dishes during family get togethers. "There was nothing in the kitchen I didn't want to do," she said about those days. "I would peel mountains of potatoes, cut vegetables." She took Introduction to Cooking classes in high school, but her decision to follow her culinary passion came long before. "It was the only thing I was ever really interested in."
One month after graduating high school, Krystle enrolled in the Art Institute of California in Orange County and began working toward her culinary degree. She found more people who shared her singular love of the food arts, and hers grew stronger. "I love being on the grill, around hot food. There's an energy and fast pace of the kitchen. That really drew me in. There's a teamwork aspect to everything we do. One thing affects the next thing and you can't have those go wrong at any step."
She worked in restaurants while in culinary school and after graduating, landed a job at resort in the Palm Springs area. Five summers of the desert heat proved too many for Krystle so she set her sights on Pechanga Resort Casino. The executive chef hired her on as a main kitchen line cook. She then moved over to the Kelsey's kitchen. During their remodel closure in 2015, she moved to work in the Garde Manger kitchen. When Kelsey's reopened, Krystle stayed behind to continue working in Garde Manger where she was later promoted to kitchen chef. "It's a great testament to my executive chef's faith in me," said Krystle. She saw the cold kitchen through the 2018 resort expansion that meant they would now service a banquet kitchen with three times the previous output, another room service kitchen, and two new restaurants. That was in addition to the 11 existing restaurants.
When the head buffet chef position presented itself in the summer of 2019, Krystle saw an opportunity to again expand her culinary prowess. Pechanga's executive chef promoted her easily into the head chef role. She's taken it to "another level," like the resort's tag line. She and her team quickly added a build-your-own halo halo station (a popular Filipino dessert consisting of shaved ice, evaporated milk, ice cream and a variety of fruits and sweet beans). "I see so much opportunity at Pechanga for people in the culinary industry. Of course, you have to put in your time and hard work, but there is so much benefit on the other side of that."
She always brings her cooking back to her guests. "I have always enjoyed taking care of people. Cooking allows you to do that on a basic, human level."
Krystle is married and has one son. They often work together tending their garden. They grow fresh herbs and are raising six chickens.
FIND A CAREER ON ANOTHER LEVEL
Discover opportunity, security, and success, with the largest private employer in the Temecula Valley.
APPLY NOW
Connect with Us

Like and Follow Us on Facebook

Glassdoor

What Team Members Are Saying

LinkedIn

See How You Are Connected