Lucina Clarke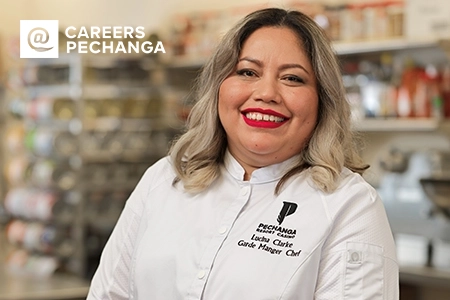 A French phrase, Garde Manger directly translates to "the cold kitchen." A vital organ to any large operation serving as much food and beverages as one of the largest resort/casinos in the country does, Lucina Clark oversees operations and the 16 Team Members in Pechanga's Garde Manger.
Growing up in Veracruz, along the east coast of Mexico, going out and playing with her many cousins and three siblings making up contests while on her family's farm. Who could find the biggest sweet potato? Who could find the oddest shaped pumpkin? While they competed, they also helped harvest the crops. And there were a lot of crops – fruit, vegetables and herbs spread over more than five acres.
"There were also the farm dares," recalls Lucina. "When the corn turns purple and it starts to get that strange mold on it. My cousins and I would egg each other on to see who would eat it first. I don't remember any of us getting sick. My family also had about an acre we shared as a backyard with several cousins and their family. My dad and grandfather planted plums, tangelos, grapefruit trees, root vegetables and a lot more. One of our main chores was watering the plants before bed each night."
It would be her fond memories of time spent with family on the farm that helped her later develop an affinity for the culinary world. That and her childhood distaste for vegetables. She knew she had to eat them so as young as eight, she experimented with cooking methods to make them more enjoyable.
At 18 years old, Lucina emigrated to the United States. She lived with family members already located in Temecula, California. Her Southern California family all worked in restaurants which made it easy for them to help Lucina find a job in one, too. She began working as a dishwasher, though she says she helped out with whatever was needed. I would chop vegetables or potatoes if they asked, make salads. After many months, Lucina received a promotion to line cook. "I was so excited. I felt like I had made it. After even a short time working in restaurants, I had this feeling like this is what I knew I wanted to do."
Lucina went on to work as a kitchen supervisor at a busy local Italian restaurant. Eight years later, Pechanga Resort Casino came calling, only the hiring managers asked her to get out of the heat of the kitchen, and into the cold. They were hiring for a Garde Manger position, in the cold kitchen. Where the constant temperature sits right around 50-degrees F. "The Italian restaurant kitchen was really hot all the time. All the burners were on, the wood stove pizza oven was always going. It took several months to finally get comfortable working in the environment. You figure out the right combos of layering your clothes."
She proved a voracious learner of all things culinary and was promoted to head Garde Manger chef. "Our role to everyone in the resort/casino is really important. We're part of the daily need for all the restaurants, as well as banquets and catering. We make something for every single restaurant every day. If it's sliced or chopped, we do it. What we do makes things easier across the entire organization."
FIND A CAREER ON ANOTHER LEVEL
Discover opportunity, security, and success, with the largest private employer in the Temecula Valley.
APPLY NOW
Glassdoor

What Team Members Are Saying

LinkedIn

See How You Are Connected

Connect with Us

Like and Follow Us on Facebook