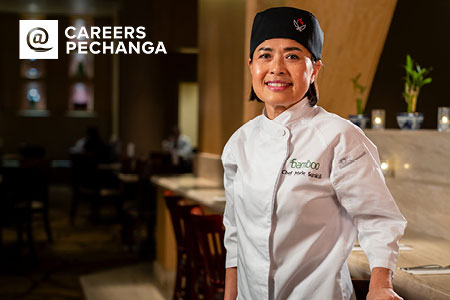 If Chef Marie Surakul looks familiar, it's likely because she started working at Pechanga Resort Casino in 2005. She came on board at the resort/casino as a kitchen supervisor for the Temptations Food Court. Even back then, she possessed more culinary and life experience than most people ever dream.
As a young girl growing up in Thailand, her mom prepared "surprise egg rolls" for her friends and her. This would be her first strong memory of feeling an affinity to food. She and her friends visited different restaurants all the time as teenagers. "I wanted to try everything. We would get a few dishes and all try each other's food. It was fascinating experiencing the different flavors from all over the world," she recalled. Then at 17, she picked up and moved the United States, by herself, in search of a better education and more culinary knowledge.
"I moved to Los Angeles and I worked everywhere, whoever would hire me. You find a lot of Mexican restaurants in LA and that's where I got my start in cooking in the U.S. I learned how to make taco shells and may have dropped a few," she smiled. Then I got a job at an American burger restaurant. That made me realize that I really loved cooking, but not fast food."
She enrolled in Cyprus College's culinary school and upon graduation, convinced her husband they should open a restaurant. They ran their Thai restaurant in Artesia, Calif. successfully for 14 years, then sold it and moved to Temecula where home and cost of living prices were less expensive.
Pechanga quickly hired Marie for its culinary department. She began in the food court. When the resort opened Bamboo in 2011, she transferred there as a kitchen supervisor. She found a comfort zone there getting to develop menu ideas and recipes. The executive chef later moved her to Blazing Noodles so she could apply her organizational and management skills to the teams there. Marie moved easily into the head chef position at Bamboo in September 2019.
"I love it here," she said. "Coming back to Bamboo was a bit like a homecoming. I get to work with the group of people who we all made connections with. Seeing ingredients and figuring out what to do with them comes easily, and I have a lot of ideas for what I want to see on a menu. I enjoy cooking different Asian cuisines. At Bamboo, we offer Chinese, Philippine, Korean and Vietnamese. I plan on adding a few Thai cuisine dishes."
Marie is married. She and her husband enjoy traveling during their free time.
FIND A CAREER ON ANOTHER LEVEL
Discover opportunity, security, and success, with the largest private employer in the Temecula Valley.
APPLY NOW
LinkedIn

See How You Are Connected

Connect with Us

Like and Follow Us on Facebook

Glassdoor

What Team Members Are Saying